Renting terms & Conditions
Centre Mandala offers these venues for renting; one big room (a lecture hall) suitable for group workshops up to 12 people and a small room (an office) for individual work with clients or smaller groups.
Booking and renting
Zuzana Řezáčová Lukášková
E-mail: zuzana@centrum-mandala.cz
If you want to join us or to rent our venue, we kindly ask you to read the centre's terms and conditions.
| | | |
| --- | --- | --- |
| | The Big Room | The Small Room |
| Area | cca 36 m2 | cca 16 m2 |
| Kapacity | max. 12 - 15 people | max. 5 - 7 people |
| Price | 200,-/hour | 150,-/hour |
| | 1000,-/day | 800,-/day |
| Availability | check availability | check availability |
| Foto | | |
Do you want to rent our venue? Come to show us your work and ideas and to discuss possible conditions.
Booking
To book either of the rooms emails us at mandaly@centrum.cz and book directly via shared big room calendar where you can find the Centre's schedule. The date is binding only after the non-refundable deposit consisting of 50% of the renting fee is payed.
The deposit should be sent to this account: 2900194356/2010 (please put your name and the date of your event in the message field for identification).
Prices
The price for renting the big room includes the rent and all the basic equipment; a kettle, dishes, benches and chairs, a CD player, a paravan for changing and a large sheet for covering the floor. The renter can also put his/her flyers in the pointed area in the centre and to send a poster (in .JPG format) for posting on our web site.

The Small Room
The small room can be used for individual sessions with the clients or for small groups at these conditions: You can book the dates via shared google small room calendar. One renting hour includes 15 minutes for preparation, 60 minutes of your own personal activity and 15 minutes for the finishing. You will be charged for another hour for exceeding this time. The price of the rent is calculated from the monthly availability of the room.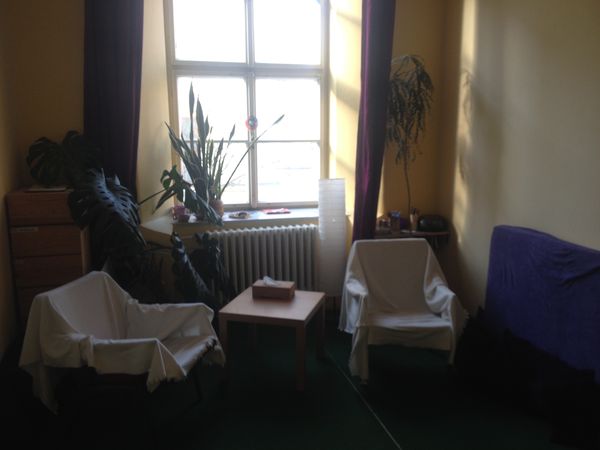 Terms & Condition of the Center
If you want to join us or to rent our venue, we kindly ask you to read the centre's terms and conditions.
We Will Be Happy to Help You
To get our tips on how to organise an event, how to calculate the prices or on all the advertising space possibilities, email us at (info@centrum-mandala.cz).