Mandala I. on-line
3 chapter, 25€
Start rite now
You need just PC and the internet.
Přihlašte se jako náhradník do kurzu Mandala I. on-line
Sign up for the course today Mandala I. on-line
Dáme vám vědět o novém termínu kurzu Mandala I. on-line
Kupte dárkový poukaz pro kurz Mandala I. on-line ještě dnes!
Dárkový poukaz Vám zašleme e-mailem po zaplacení kurzovného. Do zprávy pro příjemce platby uveďte své jméno.
Žádost o vystavení poukazu můžete také zaslat e-mailem Zuzaně Řezáčové Lukáškové (info@centrum-mandala.cz). V emailu uveďte kurz o který máte zájem, jméno obdarovaného a kontakt na Vás. Vyplněním formuláře souhlasíte s Obchodními podmínkami a s ochranou osobních údajů.
Kapacita kurzů je omezena, kupte poukaz raději již dnes!
Napište si o termín na program Mandala I. on-line
What do you get?
basics of working with mandala
colour and shape - their meaning and how to work with them
basics of relaxation
The course is for...
teacher
therapist
people interested in mandala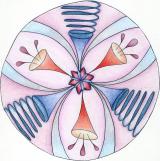 Advantages of this on-line course
you can start whenever you want to
you can do the course whenever you want to
you get written manuals how to work with your own feelings for other use
if the course doesn't deliver the goods we can refund your money back
you can try one lesson GRATIS
What do you get from this on-line course?
information from the mandala´s world
manuals and workbook
time for yourself
increasing your creativity
How to have the time for yourself - why do you need it you can read on our blog.
You can learn about yourself, colours and shapes which you use in your mandala. The course is focused on colours and shapes in mandala. We look at colours - what each colour means, how it affects to us, what we can express with it, but also how we can use it. We look at shapes and we put it together in mandala - instrument for self-knowledge, meditation and relaxation.
Each on-line course contains
written instructions for your work with mandalas
sound instruction
mandalas for your creation
tests
How our course works
After you apply for the course you receive mail with instructions about your login to the web interface of on-line courses. You get workbook to your letter-post and access to paid course (which you chose) after you pay tuition. You can start with completing the course whenever you want to. You can browse the course how long you want to. You will be informed about news as long as you logout. The course is still being in progress. You can do funny tests, share your mandala´s and join to discussion. When you fill the final questionnaire you receive the certificate of course completion.
Start rite now
You need just PC and the internet.
Podobné a související akce