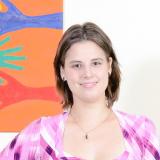 I graduated in 2007 in Brno with my undergraduate degree and in 2012 in the postgraduate one. In spring 2008 I completed my four-year satitherapeutic training and in 2011 I finished a two-year artefiletics and art therapy course under the supervision of Marijanka Bažantová. Furthermore I have attended the ULURU personal development seminars, The journey of a woman, Family constellations, The journey of a shaman and other seminars focused on presentation and lecturing skills as well as professional rhetoric. Currently I am a member of an art therapy association and I am the executive manager of civic association Centrum Mandala z.s. I am a certified satitherapist and I work under the supervision of Igor Klečka. Next to individual and group counseling I practice group art therapy, using mandalas.
Co všechno dělám
painting mandala
mandala test
executive of Centrum Mandala
My qualification
arttherapy
mandala test
satitherapy
You can meet our lecturer during these courses

Term is up to you 32€ Only for one!
Více info a přihlášky